4. API¶
The Seo Panel API provides an interface to allow you to access and perform actions in Seo Panel both from external applications and scripts as well as internal modules and addons.
The Seo Panel API supports response type: JSON
1. API Setup¶
Login as admin and go to following page
Admin Panel => API Manager => API Settings
Change values of API Key and Secret for security according to the below screen shot.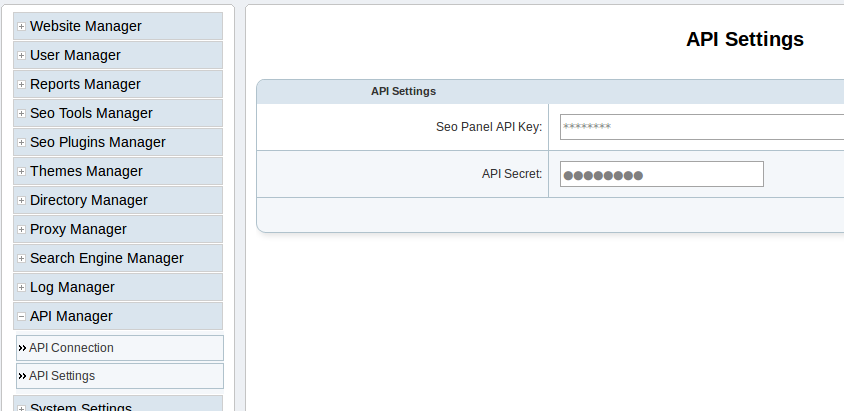 2. Functions¶
The API currently supports the following functions
Website Management¶
Common Attributes
SP_API_KEY => Seo panel api key
API_SECRET => Seo panel api secret key
category" = website
Keyword Management¶
Common Attributes
SP_API_KEY => Seo panel api key
API_SECRET => Seo panel api secret key
category" = keyword
User Management¶
Common Attributes
SP_API_KEY => Seo panel api key
API_SECRET => Seo panel api secret key
category" = user
3. Sample Code¶
Create User¶
<?php
     function doCurlPost($apiUrl, $paramList) {

             // create field string
             $fieldString = "";

             foreach($paramList as $key => $value) {
                     $fieldString .= "$key=$value&";

             }

             rtrim($fieldString, '&');

             // open connection
             $ch = curl_init();

             // set the url, number of POST vars, POST data
             curl_setopt($ch,CURLOPT_URL, $apiUrl);
             curl_setopt($ch,CURLOPT_POST, count($paramList));
             curl_setopt($ch,CURLOPT_POSTFIELDS, $fieldString);
             curl_setopt( $ch , CURLOPT_FOLLOWLOCATION, true);
             curl_setopt( $ch , CURLOPT_RETURNTRANSFER, true);

             // execute post
             $result = curl_exec($ch);

             // close connection
             curl_close($ch);
             return $result;

     }

     $paramList['SP_API_KEY'] = "sss";
     $paramList['API_SECRET'] = "sss";
     $paramList['category'] = "user";
     $paramList['action'] = "createUser";
     $paramList['username'] = "spuser";
     $paramList['password'] = "spuser123";
     $paramList['first_name'] = "SP";
     $paramList['last_name'] = "User";
     $paramList['email'] = "spuser@seopanel.in";

     $apiUrl = "http://localhost/seopanel/api/api.php";
     $result = doCurlPost($apiUrl, $paramList);
     $resultInfo = json_decode($result);
     echo "<pre>";
     print_r($resultInfo);
     echo "</pre>";

User Website Reports¶
<?php
     function doCurlPost($apiUrl, $paramList) {

             // create field string
             $fieldString = "";

             foreach($paramList as $key => $value) {
                     $fieldString .= "$key=$value&";

             }

             rtrim($fieldString, '&');

             // open connection
             $ch = curl_init();

             // set the url, number of POST vars, POST data
             curl_setopt($ch,CURLOPT_URL, $apiUrl);
             curl_setopt($ch,CURLOPT_POST, count($paramList));
             curl_setopt($ch,CURLOPT_POSTFIELDS, $fieldString);
             curl_setopt( $ch , CURLOPT_FOLLOWLOCATION, true);
             curl_setopt( $ch , CURLOPT_RETURNTRANSFER, true);

             // execute post
             $result = curl_exec($ch);

             // close connection
             curl_close($ch);
             return $result;

     }

     # get user website reports
     $paramList['SP_API_KEY'] = "sss";
     $paramList['API_SECRET'] = "sss";
     $paramList['category'] = "website";
     $paramList['action'] = "getReportByUserId";
     $paramList['id'] = 5;
     $paramList['from_time'] = "2015-06-26";
     $paramList['to_time'] = "2015-06-29";

     $apiUrl = "http://localhost/seopanel/api/api.php";
     $result = doCurlPost($apiUrl, $paramList);
     print $result;
     $resultInfo = json_decode($result);
     echo "<pre>";
     print_r($resultInfo);
     echo "</pre>";

Keyword Reports¶
<?php
     function doCurlPost($apiUrl, $paramList) {

             // create field string
             $fieldString = "";

             foreach($paramList as $key => $value) {
                     $fieldString .= "$key=$value&";

             }

             rtrim($fieldString, '&');

             // open connection
             $ch = curl_init();

             // set the url, number of POST vars, POST data
             curl_setopt($ch,CURLOPT_URL, $apiUrl);
             curl_setopt($ch,CURLOPT_POST, count($paramList));
             curl_setopt($ch,CURLOPT_POSTFIELDS, $fieldString);
             curl_setopt( $ch , CURLOPT_FOLLOWLOCATION, true);
             curl_setopt( $ch , CURLOPT_RETURNTRANSFER, true);

             // execute post
             $result = curl_exec($ch);

             // close connection
             curl_close($ch);
             return $result;

     }

     # get keyword reports by id
     $paramList['SP_API_KEY'] = "sss";
     $paramList['API_SECRET'] = "sss";
     $paramList['category'] = "keyword";
     $paramList['action'] = "getReportById";
     $paramList['id'] = 1;
     $paramList['from_time'] = "2015-06-30";
     $paramList['to_time'] = "2015-07-01";

     $apiUrl = "http://localhost/seopanel/api/api.php";
     $result = doCurlPost($apiUrl, $paramList);
     print $result;
     $resultInfo = json_decode($result);
     echo "<pre>";
     print_r($resultInfo);
     echo "</pre>";